---
Detta inlägget innehåller annonslänkar
---
Det tog mig många år innan jag hittade min stil.
Jag hade många olika stilar innan jag hittade min bekväma bohemiska stil och vad vi har på oss är viktigt. Det är precis som Rachel Zoe säger "Style is a way to say who you are without having to speak". Här under har jag listat mina favorit märken.
/
It took me many years before I found my personal style. 
I went trough many weird once before I found my comfy bohemian style and what we wear is important. It´s just like what Rachel Zoe said "Style is a way to say who you are without having to speak". Here I have listed my favorite brands.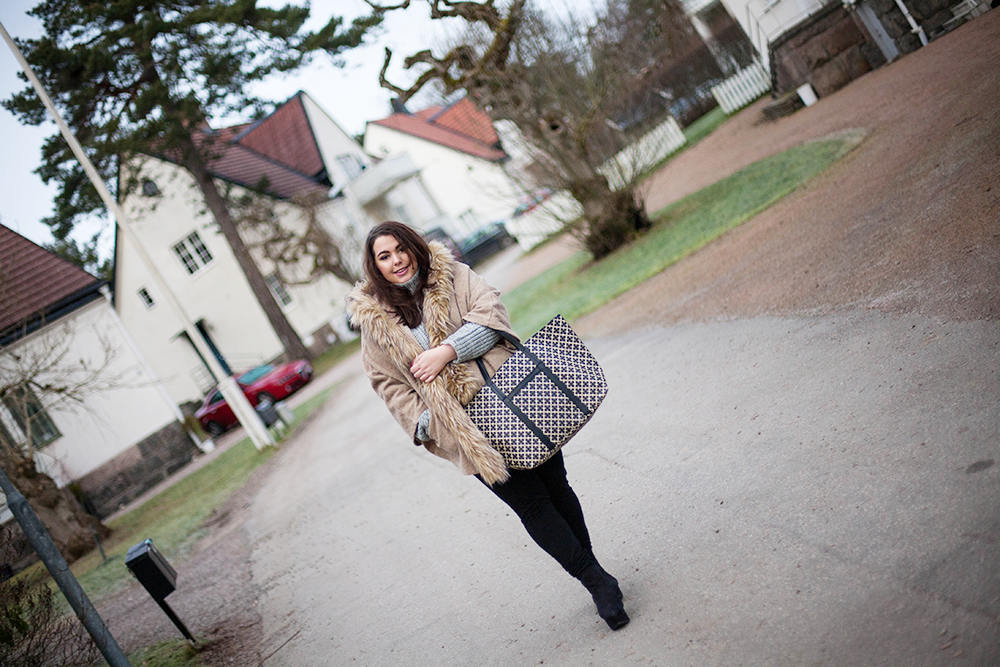 Boots/Nelly – Leggings/Gina Tricot – Sweater/Zara – Coat/River Island – Bag/By Malene Birger
Wildfox
Man måste mer eller mindre bott under en sten om man inte vet att detta är mitt absoluta favorit märke. Tyvärr är det svårt att få en bra deal då en vanlig t-shirt kostar ca 800 kronor och sen säljs inte märket i Sverige. När England gått ur EU så vet jag inte ens om jag kommer ha råd att få tag på dessa älskade kläder då jag inte bara behöver betala mycket pengar förkläderna i sig. Det kommer tillkomma frakt, moms och tull. Kan säga att jag gråter en hel del över detta men Wildfox har alltid varit en stor favorit för mig. Deras kläder är lekfulla, over size och så galet bekväma.
/
You must have been living under a rock if you didn´t know that Wildfox is my absolute favorite brand. Sadly it´s hard to get a good deal because a regular t-shirt cost about 80 euro and they don´t even sell the brand in Sweden. When England will leave EU I don´t even know if I can afford the clothes because of the high price, shipping, custom duty and taxes. I would lie if I said that I have not been crying about this. Their clothes are playful, over size and so comfy.
Free People
Om du är en bohemian lover precis som jag så är detta märket gjort för oss. Många av plaggen är mönstrade, kommer i många härliga färger och som ni kanske gissat så finns det en hel del over size tröjor. Även fast att jag haft ögonen på detta märket i över ett år så har jag fortfarande inte köpt mitt första plagg, mest för att det kostar en hel del pengar. Så typiskt mig att bli förälskad i dyra märken.
/
If you are a bohemian lover just like me this brand is for us. Many of their clothes are in pattern, many wonderful colors and as you may have guessed they have many big over size sweaters. I have had my eye one this brand for over a year but I still have not gotten any of their clothes most because of the price. Typical me falling in love in expensive brands.
By Malene Birger
Jag har tidigare bara haft ögonen på detta märket just för deras väskor men sen deras höstkollektion släpptes i år så har jag blivit kär i alla deras mysiga tröjor. Jag tycker det är väldigt roligt att det finns så himla många bra Skandinaviska mode designers. Än så länge äger jag bara accessoarer från detta märket men det kommer inom kort att förändras. Jag hoppas att jag kommer lyckas fynda nu under julrean. För precis som de två tidigare märkena är detta också dyrt.
/
Before I only had my eyes on their handbags but when this year fall collection came out I have been falling in love in their cozy sweaters. I think it´s so fun that we have so many amazing fashion designers here in Scandinavia. So far I only own accessories from this brand but I hope this will change very soon. I hope that I can get my hands on some sweaters under the christmas sale. Yes this as the other two brands are expensive.
River Island
Kappan ni ser på bilderna är ett av mina absoluta favoritplagg och den kommer från River Island. Dom har så mycket fint och det gäller inte bara kläderna utan även skor, väskor och andra accessoarer. Till skillnad från de andra märkena så är detta inte lika dyrt och dom har så många mysiga tröjor.
/
The coat that you see in the picture is one of my favorit items and it´s from River Island. They have so many cute clothes but also shoes, bags and accessories. They are not as expensive as the other brands and they have so many cozy sweaters.
Ralph Lauren
Raffe är uppdelad i flera olika varumärken precis som Michael Kors och Marc Jacobs så därför får det bli allt då jag alltid hittar olika favoriter i de olika märkena. Är det inte tröjorna, så är det skorna för att inte tala om väskorna. Denna tröjan har jag dreglat efter länge då den ser så mysig ut och sen minskar inte begäret när min favorit Molly Rustas har en.
/
Like Michael Kors and Marc Jacobs, Lauren have many names for their different styles but this is including it all because I always find something cute from them all. If it´s not sweaters it´s shoes or bags. I´m in love with this sweater and after seeing it on one of my favorite bloggers Molly Rustas it did not ease the wanting.