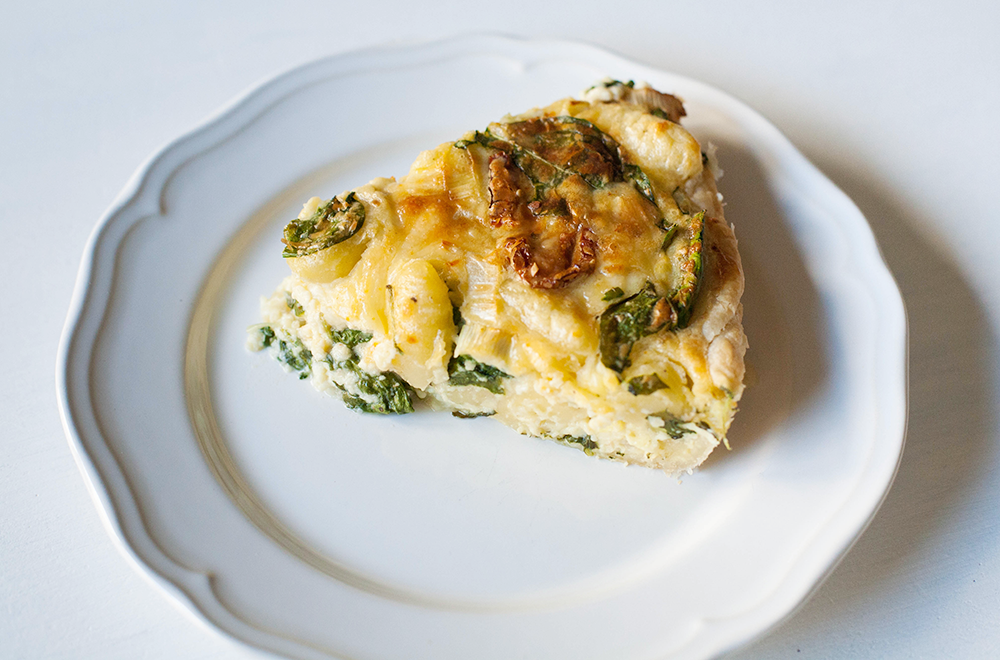 När det kommer till mat så är jag väldigt feg. Mycket beror nog på att min mage är och har alltid varit väldigt känslig. Sen har jag aldrig varit en person som lagar mat efter recept. När jag fyllde år så hade min sambos mamma gjort så mycket mat och jag blev helt förälskad i en av hennes pajer. Jag har alltid tyckt att det varit svårt att göra pajer men denna blev så himla god och jag vill även ge cred till min sambos mamma som hjälpte till med vissa av ingredienserna.
Du behöver följande ingredienser: Pajdeg (vi köpte färdig), spenat, purjolök, gnocchi, riven ost, brieost, soltorkade tomater, champinjoner, 3 ägg, grädde och valfria kryddor.
Så här gör du: Börja med att sätta ugnen på 200 grader. Skär brieost i bitar, lägg i en mixer och tillsätt äggen och 1 dl grädde. Mixa allt tillsammans och lägg i en bunke. Skär de övriga ingredienserna och lägg i bunken. Hur mycket man vill ha av allt är en smak sak skulle jag säga. Koka vatten och häll i gnocchi. När den har kokat klart lägg i den i bunken, krydda och rör sedan om. Lägg ut pajdegen i en form och häll i all fyllning. Ha i ugnen i ca 30 minuter. Vi hade inne pajen i ca 20 minuter först men insåg att den behövde mer tid. Hur mycket fyllning man har påverkar tiden så titta till den då och då.
---
When it comes to food, I'm very safe. Much is probably because my stomach is and has always been very sensitive. I have never been a person who cooks after recipe. When I had my birthday, my partners mother had done so much food and I fell in love with one of her pies. I have always thought it was hard to make pies but this was so good and I would also like to give cred because she helped out with some of the ingredients.
You need the following ingredients: Pastry dough, spinach, leek, gnocchi, grated cheese, brie cheese, sun dried tomatoes, mushrooms, 3 eggs, cream and optional spices.
Do like this: Start by setting the oven at 200 degrees. Cut brie cheese into pieces, put in a mixer and add the eggs and 1 dl cream. Mix all together and put in a bowl. Cut the other ingredients and lay in the bowl. How much you want everything is a taste thing I would say. Boil water and put in the gnocchi. Once cooked, put it in the bowl, season and then stir. Put the pie dough into a mold and pour in all the filling. Place in the oven for about 30 minutes. We had it for about 20 minutes first but realized that it needed more time. Take it out and look if it´s done after 20 minutes, if not have it in 5 minutes more.